Sorry, but this Wiki has been discontinued and is being dismantled.
You are welcome to look around, but the information contained herein is obsolete and most no longer relevant to the project. Please refrain from making edits, as the wiki is being dismantled at this time.
All works on this wiki are licenced under a Creative Commons Attribution-Noncommercial-No Derivative Works 3.0 licence.
Kindly note that the amount of editors allowed in to help out is restricted, as this work is not in the public domain, and cannot be reprocessed or calqued at will. If you wish to be part of our team and you are willing to adhere to the policy, please contact our Staff. Note that the game material is itself copyrighted, and this, like other wikis, is merely a collection of reference materials on a copyrigighted work allowed under fair use laws.
Les Histoires Duchemin Wiki has 153 articles since August 2010!

About the series - Manual of Style - Help Pages - Edit Sandbox - Contact Us! - Project Beta - Forums
This Month's Featured Article
Closed.
Les Histoires Duchemin wiki is being dismantled and abandoned by its creators. Please respect their decision and do not ask that it be preserved. 18.8.2010: Les Histoires Duchemin Wiki sports a snazzy new layout!
13.8.2010: The wiki reaches the mark of 100 articles!
10.8.2010: Christoph Schrader, co-writer of Les Histoires Duchemin, becomes the wiki's first administrator.
2.8.2010: Les Histoires Duchemin Wiki is set up!
Roll Call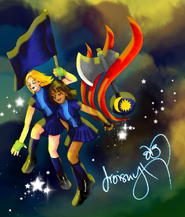 We have pages ready for your help!
Coming soon!
Coming soon!
Thinking of helping out?
Not sure where to start?
Adding content
Talk and more...
Check out the Community Portal to see what the community is working on, to give feedback or just to say hi.
Quote of the Moment
"Look, we can't just SIT THERE and do nothing! They may be physically strong but they're thorns in our flesh!"
Coming soon! Do bear with us!
Cleanup of the Month
The "Cleanup of the Month" marches on! Each month, the wiki introduces an article or set of articles, which is in dire need of major cleanup. This includes following the Manual of Style, adding more official content and pictures, adding templates and wiki maintenance, spell-checking, and grammar corrections.
The Cleanup of the Month for August is:
Coming soon! Do bear with us!